We are a platform independent provider of aerodynamic retro-fit solutions for wind turbine blades. Over 360.000 SMART BLADE Vortex Generators are already installed on more than 2000 turbines across 17 different turbine platforms.
Vortex Generators (VGs) improve the performance of the blades by reducing flow separation. This leads to more torque turning the rotor and thus more energy produced.
Even modern wind turbine blades suffer from a poor aerodynamic performance in the root region. The reasons are blade production and operational limitations. This always leaves room for improvement.
Material Selection
We use superior thermoplastics and 3M adhesives with excellent durability and weather resistance. There are NO major VG failures so far.
Optimal Performance
Every new platform is profiled with a novel in-field flow visualization (SMARTViz), in order to determine the optimal VG position for each specific blade type.
Performance Assessment
We offer full and transparent support with performance assessments. We use a highly sophisticated method based on high resolution SCADA data. Our method has been successfully approved by DNV-GL within several projects.
Proven AEP increase
With a total number of 102 test turbines of different types across 28 different sites worldwide, an average gain in annual energy production (AEP) of 2.1% is proven.
Proper Installation
Once the VG pattern is developed, a precise installation process is formulated to assure accurate and repeatable VG placement during installation.
Speed
Utilizing custom templates, self-adhesives and skilled rope access technicians an average of one working day of downtime per turbine is achieved.
Calculate your AEP increase
SMART BLADE offers you a project based VG performance assessment. We know that the key to a successful solution is the proof of a worthwhile investment.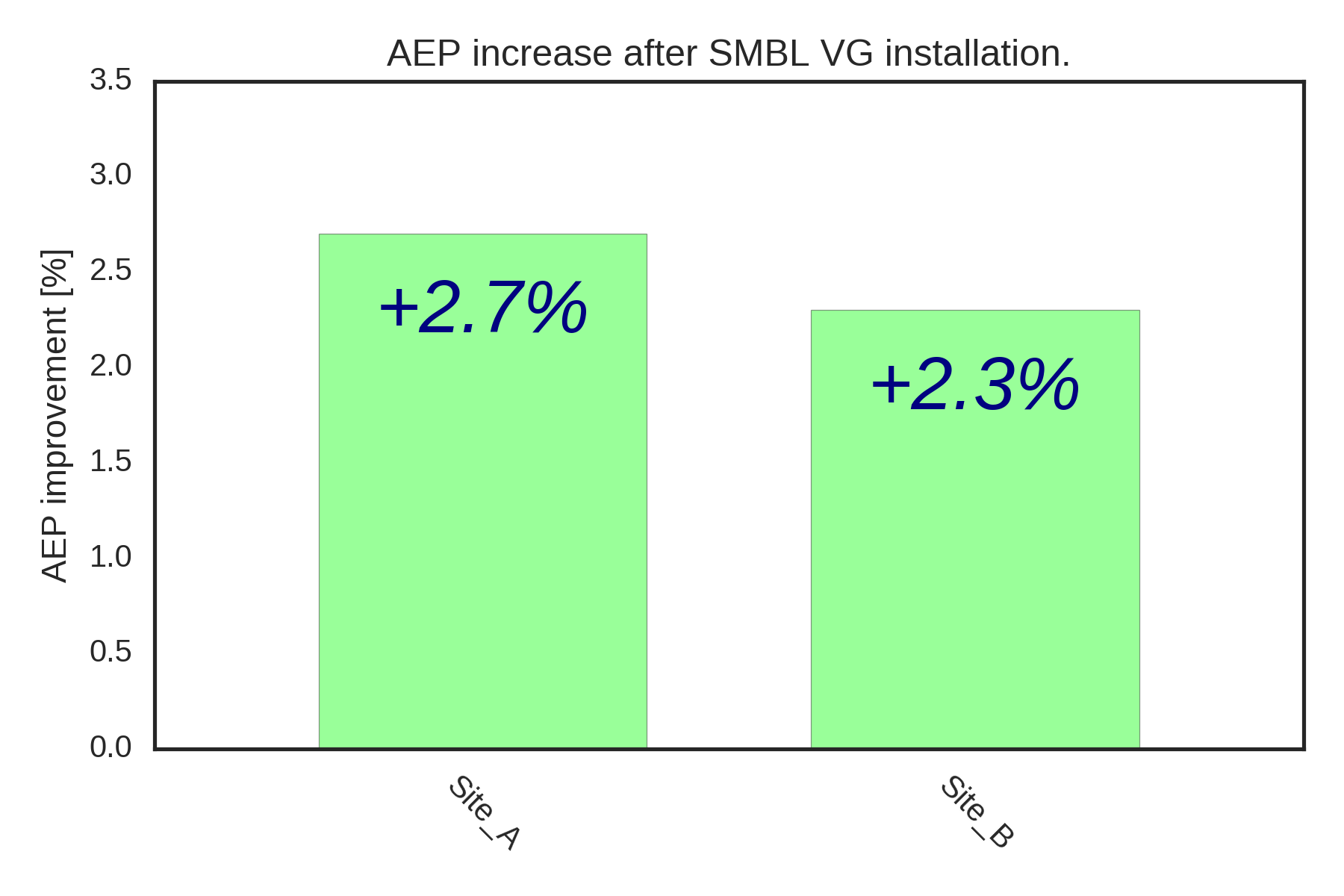 Get your site specific VG AEP+ forecast now
The actual VG gain is depending on your local wind speed conditions. We are happy to prepare an AEP forecast for you. Just let us know about your turbine type and your site's wind speed distribution and we will get in contact with you.
Do you want to know more? Read our FAQ.
The VGs increase the turbine power in partial load. The nominal rated power of the turbine is not affected. The VG effect on the power curve is wind speed dependent. Therefore, the overall AEP improvement is depending on a site's local wind speed distribution.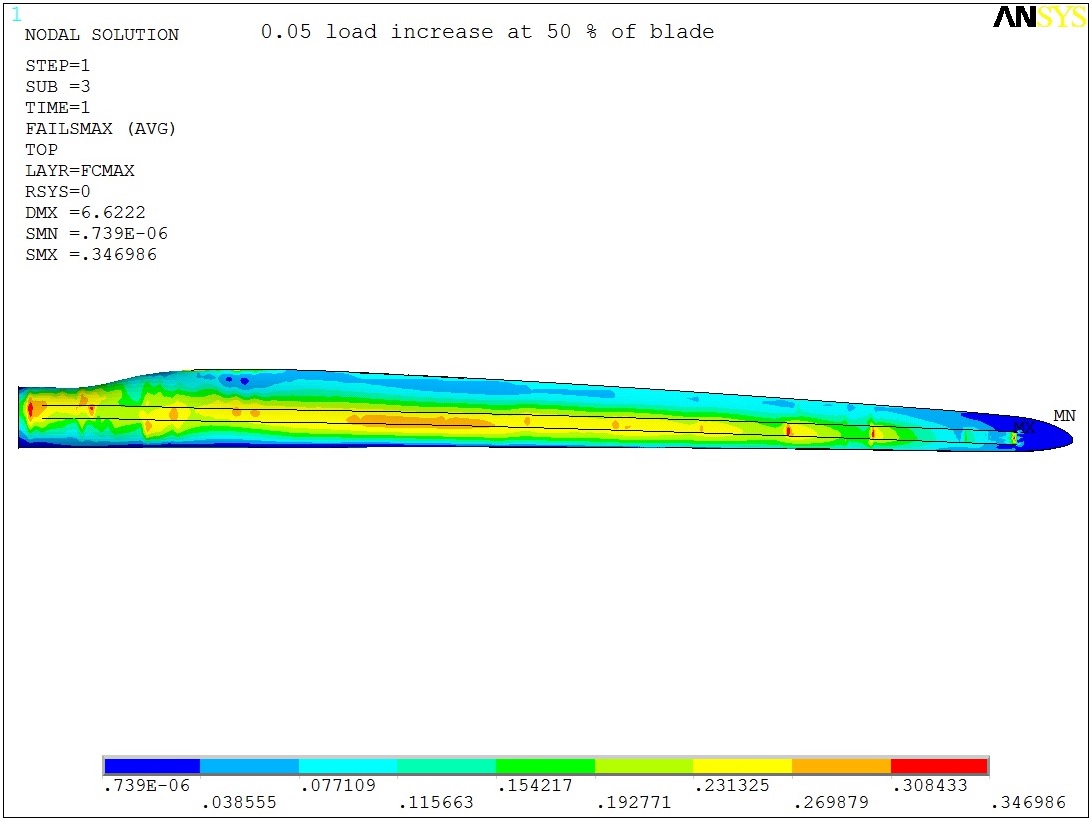 Following the IEC 61400-1 standard we conducted load simulations and an FEA study on a generic wind turbine blade. We investigated the effect the VGs have on the blades' structural integrity. No impact on the failure index of the blade was found. Additionally, already three turbine manufacturers have directly involved their load department to analyze our VGs on their turbines. The clear statement is: Root VGs have no influence on the design loads of the turbine.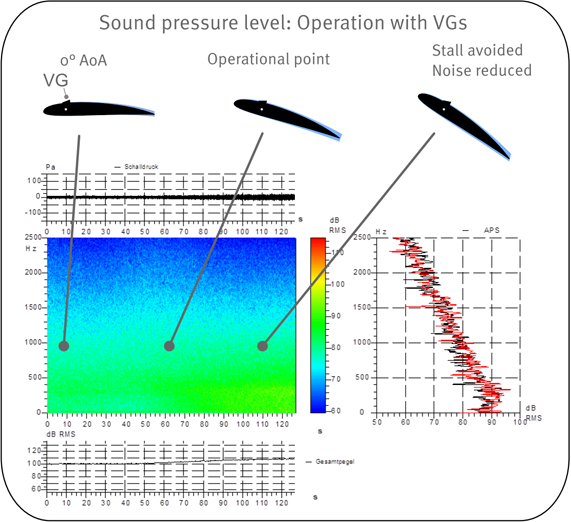 We conducted aeroacoustic wind tunnel tests to understand the effect of VGs on the noise emissions. The sound pressure level at high angles of attack is considerably lower with VGs. Separated flow is always a source of noise. Delaying stall using VGs subsequently reduces the noise emissions of the turbine.
From a practical point of view, root VGs will neither reduce nor raise the turbine noise. The inner part of the blade does not contribute to the overall noise emission of the turbine.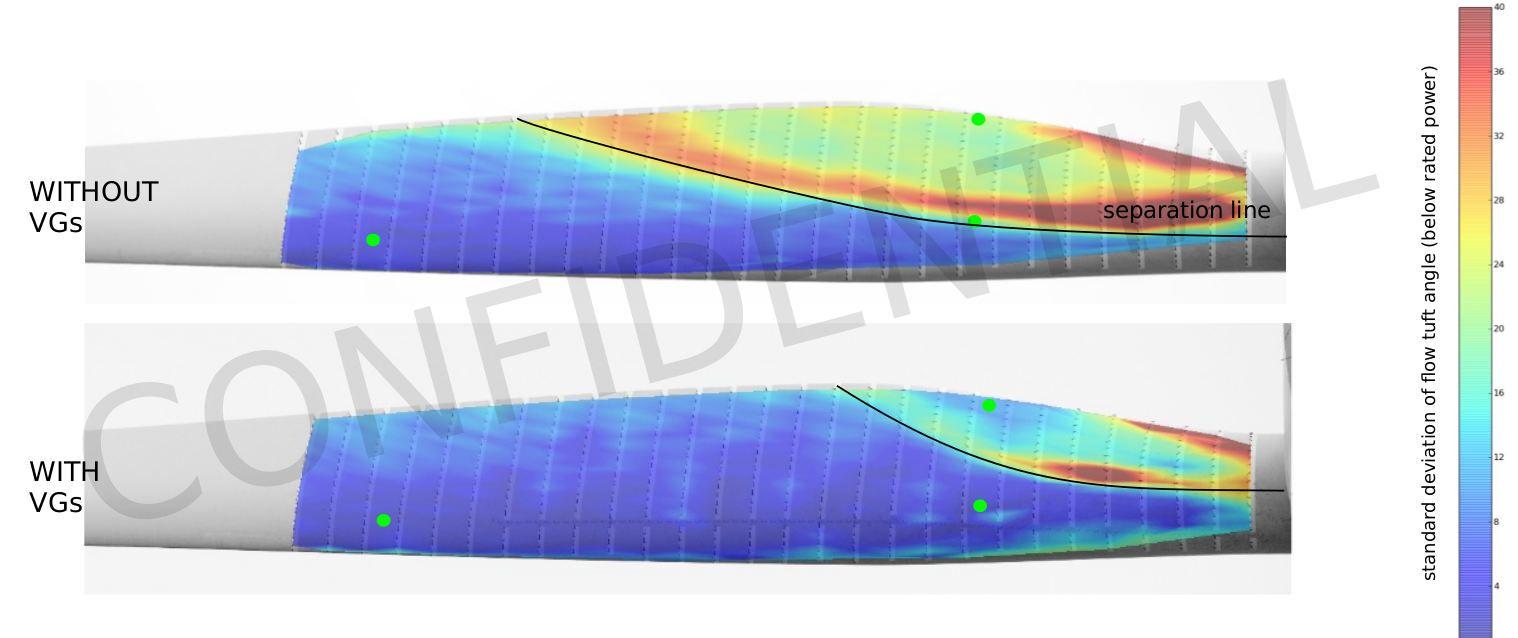 Every wind turbine blade is different. Our in-field flow visualization allows for an optimum VG placement for each blade type. This highly customized process maximizes the energy recapturing. This energy would otherwise be lost in flow separation.