Educational Wind Tunnels
Through our own experience in wind tunnel testing, we know that wind tunnels are generally extremely expensive, bulky and very complicated to operate. For academic, educational and demonstration purposes we do offer two small, robust, reliable and low-cost wind tunnels.
EDUCATIONAL wind tunnel "EdWin"
The educational wind tunnel "EdWin" is a closed-loop wind tunnel and is ideal for educational purposes and small-scale aerodynamic experiments. We offer the wind tunnel in different versions with different accessory modules to perfectly match your needs.
The Baseline version provides the basic functionalities of a wind tunnel, whereas the FlowVis version has an integrated system for generating streamlines for flow visualizations. Using an ultrasonic vaporizer to generate fog in the wind tunnel, a heat grid (hot wire) generates the streamlines in the test section. This technique is nonpolluting and completely odorless. It can be used to visualize flow structures such as Kármán vortex streets, flow separation, laminar-turbulent transition.
Additional Modules and Accessories
SMARTest: Hardware and software module for the measurements of velocity utilizing integrated pressure probes and ambient data sensors (temperature, humidity, pressure). Touchscreen Tablet PC with Windows® OS and LabView® software for the electronic control of wind tunnel functions and an automated change of AoAs. Ideal in combination with an additional force balance for data acquisition and displaying airfoil polars.

2- or 3 component balance: Measurement of lift, drag (and pitch moment). Includes a servo-motor for electronic angle of attack variation. The balance comes with amplifiers but does not include any hard- and software to process the data.

High Speed module: Inserts for the test sections to increase the velocity in the test section up to 14 m/s (test section height reduction by 30%).

Test bodies: Custom made test bodies on demand with the possibility of integrated pressure taps.

Velocity measurement: Integrated pressure transducer and software module for velocity measurement.

Encasement: For use in museums or other permanent exhibitions. Style and material can be chosen.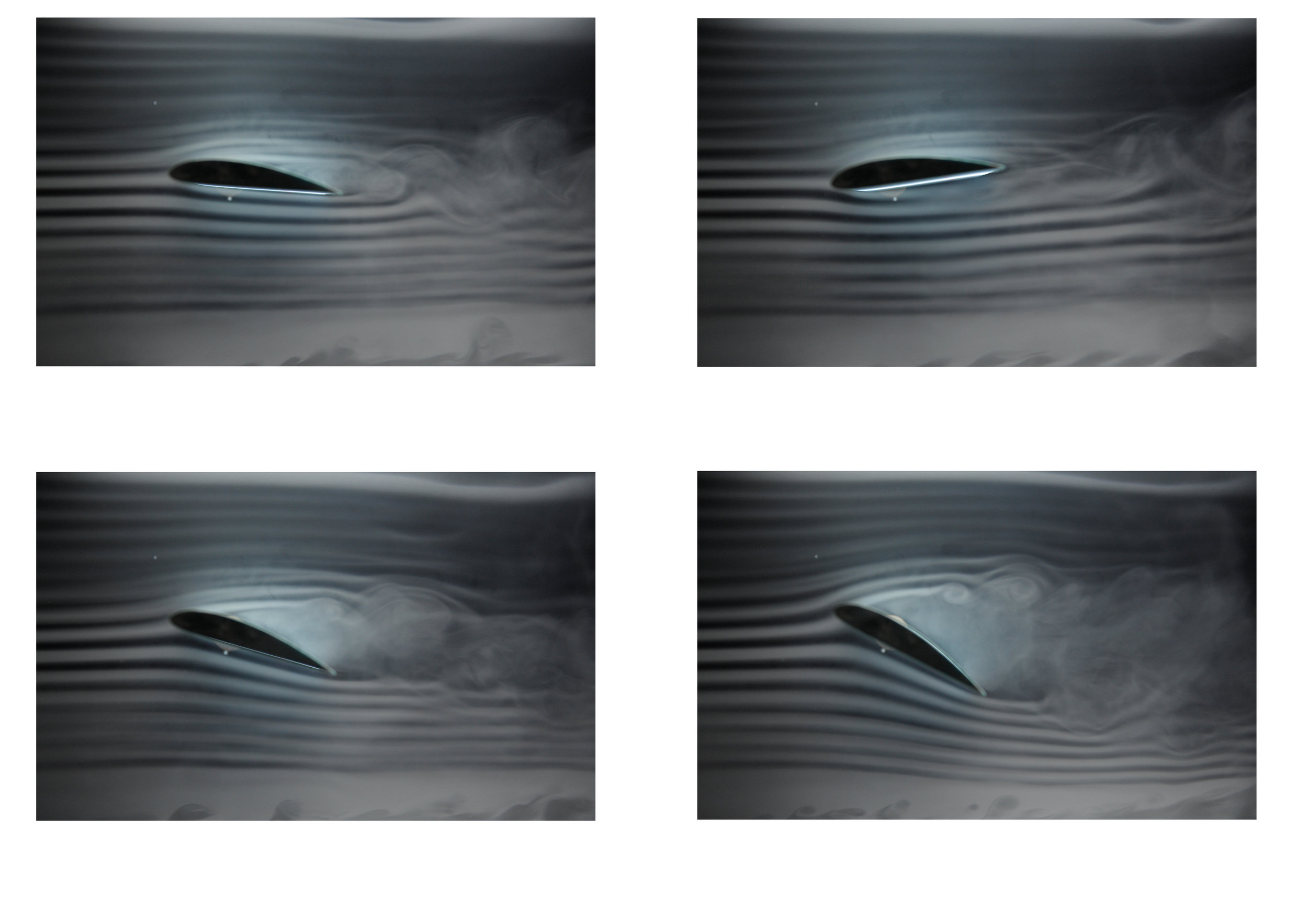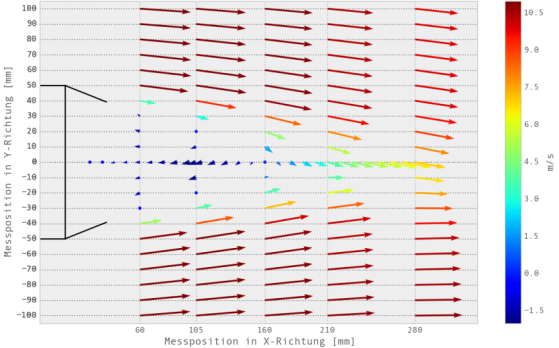 Technical Details
Maximum free stream velocity: 11m/s (14m/s with High Speed Option)

Free stream velocity for visualization: min. 1m/s

Dimensions of wind tunnel: l=2.2m; w=0.5m; h=1.7m (total height including support frame & wheels)

Dimensions of test section (visible area): l=0.72m, h=0.37m, w=0.2m

Wing model size: a=110mm, b=190mm

Weight of wind tunnel and frame (depends on version): 150-300kg

Power usage: max. 300 W

Distilled water consumption (approx.): 400ml/h
Our edwin at the hamburg windenergy expo 2018
Mini Visualization Wind Tunnel JW500
For demonstrating some basic aerodynamic principles , SMART BLADE offers a mini visualization wind tunnel designed by Dipl.-Ing. Jürgen Wagner. It is the ideal and affordable wind tunnel for lectures and exhibitions.
Smoke or Vapor
The wind tunnel comes in two options: either it is operated with smoke or with vapor. The use of smoke results in very a precise and elegant visualization but the smoke has a somewhat unpleasant smell. As an alternative, we provide the tunnel with a piezo evaporator to create water vapor. A heat grid cuts the streamlines out of the vapor.
Test Objects
Test objects can be attached by strong magnets through the glass panel and can be moved from the outside while the tunnel is operating.
Transport and Presentation Box
A safe and secure box for transport and storage is available. At the same time, it serves as a presentation jig for the tunnel
Technical Data
Test Section: 495x320 mm

Wind Tunnel: 770x570x120 mm, 10 kg

Transport Box: 1050x650x170 mm, 9 kg (empty)

Power rating: 110V/220V AC, approx. 50W power consumption